Your Jacob Wismer PTO at Work seal highlights the school programs, activities, and extracurricular events your PTO supports. So keep an eye out for the "Your PTO At Work" seal, to know your hard work, appreciated donations, and more are at work.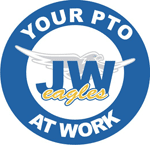 To see how the JW PTO raises funds and where your financial contributions go, please see the "PTO Snapshot" section midway in the form below:
How do I Get Involved?
If you are interested in helping out, click on the Get Involved button in the menu or read more here.