Donate Online

Or click this link to go directly to online form.
Employee Matching
If you donate to Jogathon directly through Intel's Employee Matching Gifts Program, please include a receipt in your child's Jogathon envelope that shows the amount of the donation so that it may be counted in our totals for your child and their classroom.   Intel does not provide us with a detailed report of contributions, only a lump sum for all donations and matching each month.  Without a receipt showing your contributions we will not be able to properly track totals for the students and classrooms.  Thanks so much for your help with this important step!
If you donate directly to your child and indicate on the collection envelope that you will request Intel to match funds, we will send home a receipt with your child with all the necessary information that you will need to submit to the Intel Easy Match portal to request the donation.
Employee matching can be such a great boost to our fundraising, so thanks to everyone for spending the extra time and effort to make it happen!
For more information, please contact Marlo McIlraith.
The Jog-a-Thon is one of our most anticipated events of the year.  The students get very excited about participating, and while its primary purpose is to raise money for PTO-supported programs, it also does a great job of raising awareness of the benefits of physical fitness.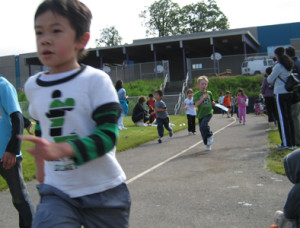 Volunteer Opportunities
Volunteers assist the committee chair with organizing the Jog-a-thon. Tasks may include setup, photocopying, tallying laps, distributing popsicles, working the water station, and clean-up.  You may sign up for one or more shifts throughout the day.
How do I Participate?
If you are interested in volunteering, click on the Volunteer button on the right to request communication regarding this event.